January 27, 2022
The #CultureFlashSale is on now with discounted tickets for four of our concerts at St George's Bristol over the next few weeks!
The sale ends at 10am on Friday 28 January so grab yourself a ticket now.
Romantic Rhapsody – 14 February
Vaughan Williams and the English Tradition – 25 March
Handel's Messiah with City of Bristol Choir – 2 April
St John Passion with Choir of Royal Holloway – 9 April
December 6, 2021
After more than 25 years as Artistic Director of the Bristol Ensemble violinist and founder, Roger Huckle, is taking charge in his new role as CEO.  Roger will oversee the strategy and financial security of the organisation, whilst continuing to have a regular presence on stage.  The role of Artistic Director will be taken over by Simon Kodurand, a violinist and member of the Ensemble since 2011.  Simon is keen to continue the fantastic work Roger has curated:
"We are fortunate to have in Bristol a hugely successful and versatile ensemble, with a dedicated education team, and I plan to build on the excellent work Roger and the BE has provided for Bristol and the surrounding areas over the years. Our goal for 2022 and beyond is to build on our collaborations with arts organisations across Bristol to better help the communities in which we serve, whilst still presenting first rate performances.  We have built new relationships with ballet, theatre, and opera companies, and this will allow us to showcase the huge and varied talent that Bristol and the Southwest has to offer."
Roger Huckle echoes this sentiment:
"The Bristol Ensemble is delighted that Simon Kodurand has joined us as Artistic Director. After 26 years of leading the organisation on all fronts it's time for new blood, new vision and new energy. The Ensemble has always been embedded in the local community and we now look forward to reigniting and building our work and relationships in the South West as we emerge from the shadow of COVID-19"
September 25, 2021
Bristol Ensemble's board of trustees is delighted to welcome two new members: Charlie Wyld has been appointed as Chair, and Daniella Radice has joined as a trustee.
Charlie Wyld was a partner in solicitors Burges Salmon, and has recently been High Sheriff of Bristol (2019-20) and Chair of trustees at St George's Bristol (2013-18). He has also recently joined the board of Young Bristol. He plays the oboe – being a pupil of our very own Imogen Triner – and sings with the Exultate Singers. He knows Bristol Ensemble well and has a wealth of experience and expertise that will be enormously valuable as we develop the orchestra and our Preludes education arm over the next few years.
Daniella Radice has a background in environmental and community issues in Bristol. A former councillor and Assistant Mayor (with responsibility for neighbourhoods), she is now field organiser for the Green Party of England and Wales, and is involved in projects working with children with learning disabilities. She plays violin in the Westbury Park Orchestra, and is also a keen singer. Her skills and enthusiasm will be particularly helpful as we develop and expand Preludes.
Charlie and Daniella join the existing trustees – Simon Cook, Jerry Cowhig, Andrew Gustar, Caroline Levett and Mark Tooley – for what promises to be an exciting period for the Bristol Ensemble.
May 5, 2021
A big thank you from the Preludes team to Kat Lloyd, who donated these amazing timps for the children to play. If you have an instrument you can donate, please get in touch with the team at education@bristolensemble.com
April 2, 2021
On 15 December last year we had the privilege of performing Vaughan Williams' The Lark Ascending at Shirehampton Public Hall, exactly 100 years after it was premiered there by violinist Marie Hall and pianist Geoffrey Mendham. Details of the concert, the associated education project, and the original premiere, are available here.
Despite the restrictions due to Covid-19, the project was delivered on budget, and we achieved almost all of our objectives. It was not possible to have a live audience, so the concert was streamed online for free, and we attracted around 4,000 viewers of the live concert, with another 8,000 viewing it subsequently. This compares to perhaps 200 who would have been able to attend the original premiere. A series of related talks and other performances also attracted several thousand views. We are grateful to Arts Council England, Paragon Music Trust and the Vaughan Williams Trust for their generous funding.
The education activities were limited by coronavirus restrictions, staff shortages and school policies, but we started early and were able to spend longer in the schools than originally planned, and modified some of the activities. Over 700 children (in St Bernard's RC Primary School, Oasis Long Cross Academy, and Oasis Bankleaze Academy) were able to learn about Vaughan Williams and The Lark Ascending; to compose and perform their own music inspired by the Lark; produce artworks and creative writing; and link this with the history of Shirehampton and their studies of the First World War. We produced a video to record their achievements, and hope to be able to hold a concert later in the year when restrictions have eased.
Bristol Beacon were enormously helpful with the promotion and technical aspects of the event. Most of the marketing was online via social media. Our Facebook event page reached over 60,000 people, and we generated a lot of retweets and favourites on Twitter. The BBC, ITV and Classic FM all broadcast features about the concert, and it was also picked up by several newspapers including The Times, The Guardian, The Daily Mail, and over 200 local newspapers' websites around the UK.
All of this coverage and social media activity generated many comments – overwhelmingly positive – from members of the public, as well as the children and others involved in the education project.
This was an exciting and complex project to deliver. We learned a lot, and worked with lots of great people – soloists, technicians, presenters, teachers and others. We taught the people of Bristol, the children of Shirehampton, and ourselves, more about this important local centenary of one of Britain's best-loved pieces of music. And in a difficult year, we were able to bring a little hope and beauty, as expressed in this comment (one of several along similar lines)…
"Just to thank them for such a calming but uplifting time of beauty and wonder in a currently chaotic life."
March 22, 2021
Preludes is incredibly grateful to the Mark Masons Benevolent Fund for sponsoring the production of over 60 videos to help vulnerable children during the months of lockdown. The videos have been viewed many times by teachers, parents and children and are still being used in schools.
November 2, 2020
We are thrilled to announce that Penny Rawlings, who heads up our award-winning Preludes project, is a National Lottery Champion of the Arts!
Her eye-catching portrait by photographer Chris Floyd is part of an exhibition of 13 'Portraits of the People', being exhibited in eight of the UK's most iconic art galleries around the UK.
The exhibition shines a light on work undertaken by individuals in the arts sector who are using National Lottery funding to ensure people can continue to be engaged and enriched by the arts, as best they can, during this time.  
British photographer Chris Floyd has captured a series of 13 portraits of people across the UK to bring this story to life. His photographic work has appeared in some of the world's most highly respected publications including Vogue, Vanity Fair, The New Yorker, Harpers Bazaar, GQ, Esquire and The New York Times.
The exhibition will be on display in National Portrait Gallery, London, IKON Gallery in Birmingham, The Photographers' Gallery in London and BFI (The British Film Institute). The portraits will also be on display at the BFI Southbank in London, and in galleries in Scotland, Wales and Northern Ireland.
Preludes, the education arm of the Bristol Ensemble, works in areas of Bristol that are experiencing high levels of economic disadvantage and aims to put music at the heart of every child's education.
Congratulations to the whole Preludes team that has been working with children in schools throughout the pandemic, making music part of their everyday lives. Forced to curtail their activities due to lockdown, the team made 16 videos to send to schools using the music teachers who usually taught them – in some schools they were also able to continue teaching some vulnerable children – in addition to 45 online recitals with freelance Bristol Ensemble players who were in urgent need of work. 
Look out for Penny talking about the team's amazing work in Bristol schools on BBC Points West later today.
October 22, 2020
We're delighted to have received an Arts Council National Lottery Project grant towards our celebration of the centenary of the first performance of Vaughan Williams' The Lark Ascending. This is on top of a grant from the Vaughan Williams Charitable Trust, for which we are very grateful.
We're excited to be joined by violinist Jennifer Pike, who will play the work with us at Shirehampton Public Hall on 15th December 2020 – exactly 100 years after Marie Hall gave the premiere there in the presence of the composer.
Although we have been planning this for some time, the COVID-19 pandemic has prevented any progress over the summer, and has forced us to rethink a few things. Now that we have secure funding, detailed planning will take place over the coming weeks. The current plan is for a combination of live and online events, plus talks and articles. The concert on 15 December will be a shorter version of the original programme from 1920. In addition our Preludes team will be running a multi-faceted Lark-themed project in several schools in the Shirehampton area, looking at both the music and George Meredith's poem that inspired it, and incorporating music, art and poetry.
We're looking forward to working with Jennifer Pike, Shirehampton Public Hall, Kings Weston House, Bristol Beacon, the schools and all of the musicians, tutors, technicians and others who will help to make this an exciting – and much-needed – celebration of one of the nation's favourite pieces of music.
Keep an eye on our website and social media for further details as our plans develop over the next few weeks.
September 16, 2020
When the country went into lockdown in March, and most children were unable to go to school, our Preludes team continued to work with some schools that remained open for vulnerable children and the children of key workers. Now that all children have returned to school for the new term, Preludes is ready to continue providing regular music education to over 2,000 children across ten Bristol schools.
We have been working closely with the schools to understand their new Covid-secure arrangements, and to agree how we can work with them safely and effectively within their "bubbles". The schools each have slightly different approaches, and our tutors, who are used to working across several schools, are having to work in new ways. But we relish a challenge!
This week we have started to return to some schools, and more will follow over the next few weeks.
We have had to change a few things, but have designed a programme of activities which is still of great quality but also keeps the tutors and children safe. We can still do some singing and playing of instruments, but will also be doing more of the quieter activities, such as composing, telling stories with music, and learning about composers. We are delighted to have recently been given some money by the National Mark Masons to record more videos, which we have been using to support and supplement face-to-face teaching in some schools.
The last few months have been stressful and disruptive for many children, and it is great – for them and us – to be able to start getting back to some normality. Preludes has proven time and again that its benefits go way beyond simply learning music. This quote, from one of the teachers at a school where we provided video tuition during lockdown, is one of many…
"During Lockdown, the support Preludes gave our children with high quality, well thought about and planned music lesson weekly videos, were invaluable to our children and families – not only providing them with fun, happy, immersive lessons to join in at home with, but making a positive impact on the continuity of their education, within this very disruptive time for them."
July 11, 2020
Bristol Ensemble players have recorded Barber's iconic Adagio in lockdown, with the separate recordings assembled through the wonders of technology into a beautiful ensemble performance. Watch the video on YouTube
December 15, 2019
On Wednesday 15th December 1920, 99 years ago, you could have paid four pence to go along to Shirehampton Public Hall for a concert of the Avonmouth and Shirehampton Choral Society. Also among the performers that night, alongside the young singer (and later actress) Gwen Ffrangcon-Davies, and teenage local cellist Helen Just (who would go on to have a distinguished teaching career at the Royal College of Music) was violinist Marie Hall, already a well-known star.
Marie Hall was a protegée of Philip Napier Miles, squire of nearby Kings Weston and himself a talented amateur musician. Napier Miles was a good friend of Ralph Vaughan Williams, who had come along to the concert for the first ever performance of his new work The Lark Ascending, in a version for piano and violin, which he had dedicated to Marie Hall.
Also on the programme that evening were Vaughan Williams' Fantasia on Christmas Carols, a selection of songs (including a newly written one by Napier Miles himself), Bach's concerto for two violins, and some choral works by Hubert Parry.
We don't know how the concert went – there are no accounts or reviews. No doubt the audience of 200 were appreciative, but perhaps didn't realise the significance of the event until the orchestral premiere took place the following year and The Lark Ascending became an instant success. It remains one of Britain's most popular and best loved pieces of music.
We have booked Shirehampton Public Hall for 15th December 2020, to celebrate the centenary of this concert. The plans are not quite finalised, but there will certainly be a performance of The Lark Ascending by a star violinist, and we certainly won't have kept the original ticket price! Watch this space for further details over the coming months.
November 1, 2019
A few pictures from our half term jazz project which took place from 28 to 31 October, led by our Preludes team Dylan, Dan, Penny and Charlie, with talented young musicians from Lawrence Weston in Bristol, in association with Ronnie Scott's Charitable Foundation.
October 8, 2019
The Bristol Ensemble unveils its new baroque specialist ensemble for the first time, under the directorship of Adrian Chandler, in a concert at St George's Bristol on 13th November.
Adrian is one of the leading interpreters of Italian baroque music and founded the renowned ensemble La Serenissima. He takes over the leadership of Bristol Ensemble Baroque in what will be a vibrant, energetic and thoroughly engaging performance exploring some well-known and less familiar composers of the Baroque period.
Of course, Bristol Ensemble has always featured baroque works in its programmes, but this concert will be performed on period instruments by baroque specialists, creating a more authentically 18th-century sound which reveals these works in a new light. Baroque instruments are generally quieter than their modern counterparts, and there are subtle differences in the design and materials. Baroque violins, for example, use gut strings rather than metal, which give a more mellow sound. Baroque wind instruments have fewer (if any) keys, with fingers used to cover the holes. Baroque pitch is about a semitone lower than modern pitch, and techniques such as vibrato, commonly used by modern singers and string players, rarely appear in authentic baroque music.
The launch of Bristol Ensemble Baroque is partly due to the fact that there are now so many fine baroque players in the Bristol area. Hopefully it will become a regular part of our concert schedule in future.
Listen to Adrian Chandler playing Autumn from Vivaldi's Four Seasons with La Serenissima
Click here for concert details.
October 4, 2019
Emma Johnson and John Lenehan performed The Pied Piper by Jonathan Dove at St George's Bristol, ably assisted by recorder-playing rats from Oasis Long Cross School.
Long Cross is one of the schools participating in the Preludes project. The children were very excited and overwhelmed to be performing with such prestigious musicians.
The parents who came along were incredibly proud of their children, and were introduced to classical music concerts in a concert hall for the first time.
September 30, 2019
Ronnie Scott's Charitable Foundation is helping children from disadvantaged areas to find their musical voices
Thanks to a grant received recently from the Ronnie Scott's Charitable Foundation, the Preludes Project, which provides music training to primary school children living in disadvantaged communities in Bristol, will be able to provide a four day music intensive for 30 children living in the Lawrence Weston area.
Much of the work that Preludes carries out in Lawrence Weston has been in brass instrument teaching – the Project has also been running a successful after school Brass Club for the past 3 years at Long Cross Primary and the music leaders will give the children the opportunity to develop their musicianship further via a dynamic and intensive four-day jazz-based project culminating in a collaborative performance with a professional band. It will also include children from Y7 and Y8 at Oasis, Brightstowe the secondary school that many of the primary students move on to.
AIMS
The aims of the project are:
Practical and Creative Musicianship creating original ideas and transforming them into full pieces.
Developing Playing Ability
Inspiring Confidence
Developing Communication and Co-operation
Providing an unforgettable and transformative experience that will last a lifetime
The Project will create opportunities for enhanced community cohesion and provide many possibilities for the future – community jazz bands, collaboration with established musicians and inspiring other Preludes students along the way.
Penny Rawlings, Musical Director of the Preludes Project said, "We are absolutely thrilled that Ronnie Scott's has enabled us to go ahead with this innovative jazz project. We can't thank the Foundation enough for the opportunities that they are giving these very deserving children. They are very excited to make a start!"
The Project will take place over 4 days from the 28th – 31st October 2019
September 24, 2019
We are delighted that Preludes has been chosen as the charity for this year's Treefest festival at St Mary Redcliffe church in Bristol.
Treefest is a spectacular festive display of Christmas trees held in the Gothic splendour of St Mary Redcliffe. Local charities, schools, businesses and other organisations can enter a Christmas tree and decorate it in a style of their choosing, giving them a great opportunity to tell local people about their services, causes or activities – and to raise money for good causes. There's also a varied musical programme and a chance for visitors to vote for their favourite tree.
Treefest has become increasingly successful over the last five years, attracting thousands of visitors and helping to raise valuable funds for local charities. This year the event will support St Mary Redcliffe's work in the community and Bristol Ensemble's education project Preludes, which has been transforming music education in the city for the past ten years.
This year's festival runs from 3rd-7th December. On Thursday 5th December, from about 5pm onwards, why not come along and join some of the Preludes team and children for "Come and Sing Carols" around the tree, plus a "Come and Try an Instrument" session.
We look forward to seeing you there!
July 29, 2019
A performance of power, intensity and great commitment" – thanks to John Quinn of Seen and Heard International for the enthusastic review of our performance given with the Choir of Merton college at the Three Choirs Festival
April 16, 2019
In 2009 Bristol Ensemble began an educational journey in two schools in South Bristol through the formation of the Preludes Project. It was conceived with an overarching vision: To transform the lives of children who live in disadvantaged communities, by putting classical music at the heart of their education. This inclusive project is unique in its provision of classical music training that is accessible for children of all abilities.
The project has gone from strength to strength over the years, working with many more schools and over 1,400 children. It recently celebrated its 10th anniversary with a concert in the glorious surroundings of St Mary Redcliffe Church. The theme was "BRISTOL SEA-PORT CITY – SONGS OF THE SEA".
The schools involved were: Baddocks Woods E-ACT Academy; Bedminster Down; Cheddar Grove; Easton C of E; Greenfield E-ACT Academy; Ilminster Avenue E-ACT Academy; Knowle DGE; Oasis Bankleaze; Oasis Long Cross; Perry Court E-ACT Academy; and Redfield Educate Together
On the programme was a wide selection of music from Classical through to Sea Shanties, performed by voices and instruments including strings, brass, woodwind and percussion and delivered with wonderful professionalism, flair and sheer enjoyment.
One of the added benefits of the project has been the engagement of the children's families and carers in their learning and performing journey. The church was filled with excited supporters, proud of the children's extraordinary achievements and eager to hear the results of all their hard work. Also in attendance were long term funders of the project, and several local dignitaries.
The Preludes teaching team, led by Penny Rawlings, works tirelessly throughout the year and on the day provided their usual warm professional encouragement and support.
For more information on Preludes, see our Preludes page.
April 15, 2019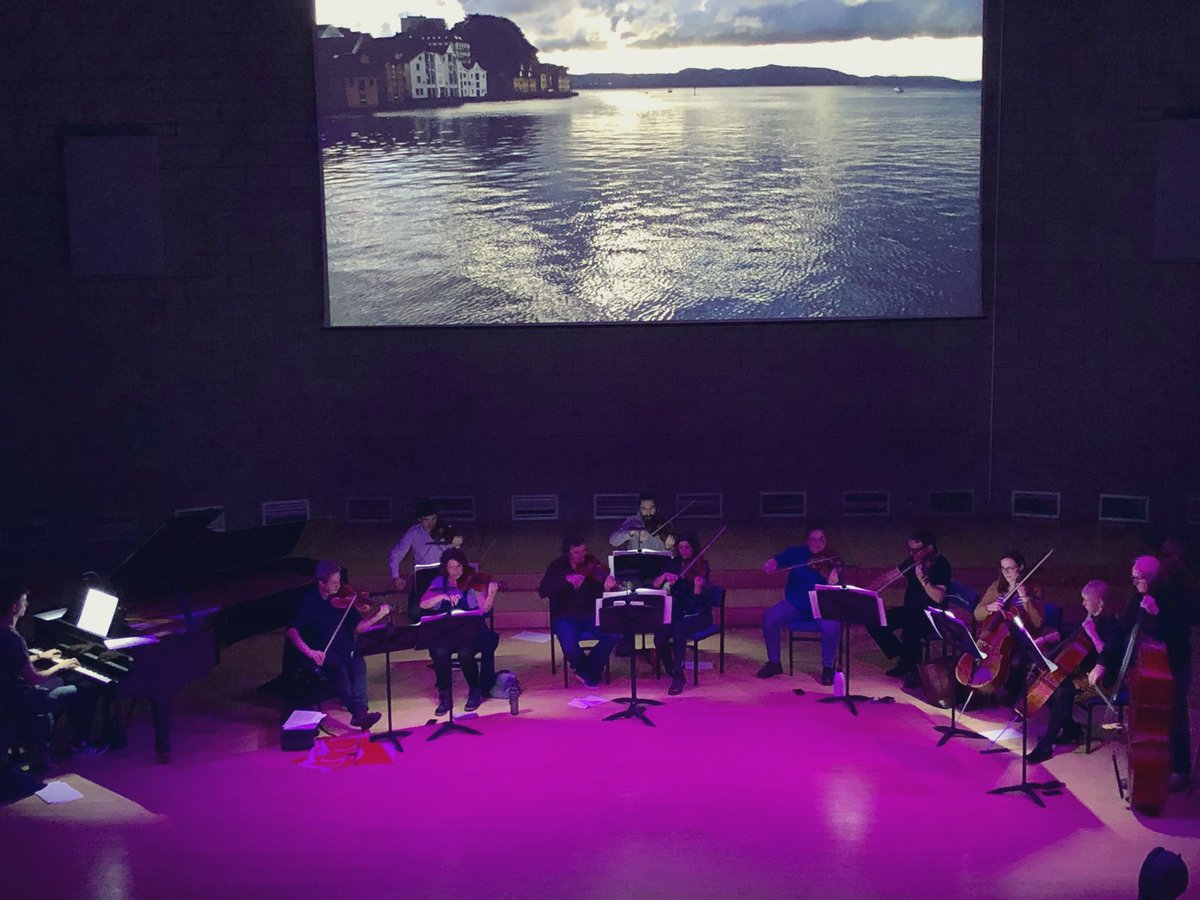 It is always lovely to get feedback on our concerts from audience members, and last month's mini-tour (at Wiltshire Music Centre, Christ Church Nailsworth, and St George's Bristol) of a concert of music by Ludovico Einaudi generated quite a few lovely comments. Thank you!
Here is a selection…
"Just listened to @BristolEnsemble playing Ludovico Einaudi @stgeorgesbris. Such a wonderful, mesmerising experience!"
"Captivating and mesmerising they said – just a bit! What a wonderful evening, like a massage for the brain."
"Bristol Ensemble plays Ludovico Einaudi concert at St George's last night was excellent. The beautiful pieces and the images of nature were mesmerising."
"Absolutely loved it. Selection of the songs was great. Surpassed my expectations."
"It was a fantastic evening at St George's. I have seen the Bristol Ensemble many times and Roger Huckle is an excellent leader. I had been given an early insight to the evening as I attended the Einaudi concert at Nailsworth given by Paul Israel and the Bristol Ensemble. That was a particularly moving experience but did not prepare me for what was to come last night. Einaudi's music is emotional in the extreme and the lighting and images made it more so. Paul Israel is a special talent."
"What a treat. I won't forget this evening – I applaud Bristol Ensemble, terrific to watch and so thrilling to listen to. Einaudi music live is a thing of wonder."
"Outstanding performance by pianist and ensemble. One that will be remembered for some while. Effective use of visual landscape photography to enhance beautiful music."
"Beautiful rendition of Ludovico's work"
"Beautiful. More Einaudi please Bristol Ensemble! There was a wonderful atmosphere and it was obvious that everyone was captivated."
"Bristol Ensemble were a real treat. I love Ludovico Einaudi's music so know it well , B.E. played it fantastically. My whole evening was great."
September 26, 2018
We are delighted to hear that Ilminster Avenue E-ACT Academy has just been awarded the Artsmark Gold Award by the Arts Council.
This is a fantastic achievement for any school and has come about because of the achievements of our award-winning Preludes project in the school.
Well done to everyone involved in music at Ilminster Avenue!
February 9, 2018
The Bristol Ensemble is featured in the first episode of the new BBC One series Sea City, which followed our 300th anniversary performance of Handel's Water Music on board the Tower Belle at the 2017 Bristol Harbour Festival.
The performance was made possible thanks to public funding by the National Lottery through Arts Council England.
Sea City can be seen on BBC iPlayer until 4 March 2018 – click here to view the programme
February 6, 2018
Today is the centenary of women being granted the vote in Britain. This significant anniversary will be marked by Notes for Women, a year-long celebration of music by women composers by the Bristol Ensemble, Bristol's professional orchestra.
Although there have been plenty of women composers throughout history, they and their works are little known, despite often being at least as good as those of their more famous male counterparts.  One reason for this is related to the historical role and status of women, the same issue that deprived them of the right to vote.  Following the first World War, and the 1918 Representation of the People Act, there has been a slow shift in the direction of equality, although female composers are still in the minority today.
Throughout 2018 the Bristol Ensemble will celebrate the lives and works of women composers, with the aims of
presenting top quality musical works by women composers in order to excite and engage audiences unfamiliar with the quality and range of this repertoire;
educating: by telling these women's stories, and drawing parallels with the wider movements for women's suffrage;
encouraging and inspiring future musicians, by showcasing contemporary music by women composers, and giving them opportunities to compose for themselves; and
leaving a legacy of greater interest and awareness of music by women composers among local audiences and performers, plus some resources to facilitate the continued performance of this repertoire.
At the heart of the year's celebration is a series of three concerts and a lecture at St George's Bristol, beginning with music by Hildegard of Bingen and music by Baroque and Renaissance composers in April's 'Early Years' concert, and ending with a new commission and film music by women composers in the final concert in November.
The Ensemble will also programme music by female composers in its other concerts in the Henleaze Concert Society series and its chamber series in Nailsworth throughout the year.
For more details, visit Notes For Women
July 24, 2017
The Bristol Ensemble took part in a very special performance of Handel's Water Music at the Bristol Harbour Festival on Sunday 23 July, echoing the premiere of the work which took place on the Thames on 17 July 1717. We are very grateful to Arts Council England for supporting the project, and to the SS Great Britain and Bristol Harbour Festival for their collaboration in making it possible.
Children from our award-winning Preludes project got things underway with a performance of the compositions they have written as part of our Water Music project:
The music is about to start with @BristolEnsemble on the @bbcrb & @ssGreatBritain stage at today's @BristolHarbFest pic.twitter.com/js4XbKJkfC

— BBC Radio Bristol (@bbcrb) July 23, 2017
Later in the afternoon, the flotilla assembled for the finale performance of the Water Music for its 300th anniversary:
So excited #harbourfest #Bristol everyone in position Water Music flotilla from @ssGreatBritain @BristolEnsemble pic.twitter.com/6hARFpa4Kk

— Paul Chibeba (@chibeba) July 23, 2017
Bristol #Harbourfest finale! @BristolEnsemble #ssgreatbritain #visitbristol pic.twitter.com/0XlC0F1vev

— SS Great Britain (@ssGreatBritain) July 23, 2017
Bristol Ensemble in a little boat, about to play the Water Music, on the water, for the Bristol Harbour Festival! pic.twitter.com/xEr5y9AzVZ

— Frances Higgs (@FHiggs) July 23, 2017
Yay nice one @BristolEnsemble @ssGreatBritain this is how we do a flotilla in Bristol #harbourfest pic.twitter.com/Nzk5h5jpSh

— Paul Chibeba (@chibeba) July 23, 2017
Beautiful sounds coming from the harbour #Harbourfest @BristolEnsemble @BristolHarbFest #Harbourfest pic.twitter.com/AGVZoMSNGb

— Jonathan Winter (@speedsailor) July 23, 2017
A view from the boat with the superb @BristolEnsemble ending the @BristolHarbFest 2017! pic.twitter.com/Qfz8Q5HQFt

— BBC Radio Bristol (@bbcrb) July 23, 2017
Handel's Water Music… on water. Thanks for a great @BristolHarbFest ! @bbcrb pic.twitter.com/zfKfnN9KQd

— Hamish (@hdahay) July 23, 2017
Playing Handel with @BristolEnsemble on a boat! #harboursidefestival #pleasedontrain #britishsummerfun

— Juliet McCarthy (@julietcello) July 23, 2017
Handel's Water Music with the Bristol Ensemble Live! https://t.co/ClFzGpgoMz

— Bristol Harbour Fest (@BristolHarbFest) July 23, 2017
Something rather special just happened on #Bristol harbour. Thank you @BristolEnsemble pic.twitter.com/6mkD7jQ7Xs

— Bristol Harbour Fest (@BristolHarbFest) July 23, 2017
Handel's water music as it should be heard… a floating orchestra to end #BristolHarbourFestival pic.twitter.com/PTsaPg5AkF

— Heather Child (@Heatherika1) July 23, 2017
Handel's 'Water Music' performed by @BristolEnsemble in Bristol Harbour for @BristolHarbFest 😃😃😃😃😃❤ pic.twitter.com/j775WjPuSR

— Mark 🌈 (@thehistoryb0y) July 23, 2017
What an amazing end to @BristolHarbFest 2017! @BristolEnsemble orchestra live in the harbour! Sound on! #HarbourFestival @ssGreatBritain pic.twitter.com/a5SqZeHobE

— Lifestyle District (@LStyleDistrict) July 23, 2017
Great end to this years @BristolHarbFest with a beautiful rendition of Handel's water music on the water! pic.twitter.com/fQni1LOC49

— Laura Pye (@laura_culture) July 23, 2017
Handel's Water Music with the Bristol Ensemble Live! https://t.co/ClFzGpgoMz

— Bristol Harbour Fest (@BristolHarbFest) July 23, 2017
Lovely end to a slightly damp but successful #HarbourFest pic.twitter.com/p8pqbXQbC8

— Bristol Harbour (@HarbMasterBris) July 23, 2017
The heavens opened but couldn't dampen the majesty of Handel's Water Music, finale to #Harbourfest @BristolEnsemble pic.twitter.com/cgQI6Y1hyE

— Suzanne Rolt (@SuzanneRolt) July 24, 2017
Extraordinary finale to Bristol harbour Festival @BristolHarbFest pic.twitter.com/yXrmjimL8i

— Sue Turner (@SueTurnerQCF) July 23, 2017
Handel"s water music at Bristol Harbour is beautiful pic.twitter.com/7evBTDptWz

— Natural Theatre (@NaturalTheatre) July 23, 2017
Mildly eccentric – totally Bristol – water music in the Rain. Perfect pic.twitter.com/DtLjaCL0Rm

— Sue Turner (@SueTurnerQCF) July 23, 2017
Few more shots @BristolHarbFest Handel's Water Music @ssGreatBritain @BristolEnsemble which sounded fantastic. Amazing despite the weather! pic.twitter.com/yyhVBYbwur

— Paul Chibeba (@chibeba) July 23, 2017
Beautiful #watermusic from @BristolEnsemble, @bristolpacket and @ssGreatBritain; six bags of plastic collected, & £150 for @CitytoSeaBrist pic.twitter.com/jmCyCxM1WP

— SUP Bristol (@supbristol) July 23, 2017
Fantastic finale to @BristolHarbFest yesterday, amazing visuals & sound with @BristolEnsemble's rendition of Handel's Water Music pic.twitter.com/3IDqClOWkY

— SS Great Britain (@ssGreatBritain) July 24, 2017
June 30, 2017
Our trustee Jerry Cowhig was interviewed at the press launch of the Harbour Festival about the Bristol Ensemble's unique contribution to what the Bristol Post describes as an "unforgettable experience" as the Bristol Ensemble performs Handel's Water Music in "an incredible live music performance on board a flotilla of boats, which will travel from the SS Great Britain along the Harbourside to the Lloyds Amphitheatre and Museum Square."
The performance will take place at 5.30pm on Sunday 23 July in a spectacular finale ending with flares and confetti cannon accompanying the music. Earlier in the day, children from the Bristol Ensemble's award-winning Preludes project will perform at the BBC Bristol stage at the SS Great Britain, as part of a project about Handel's Water Music.
June 16, 2017
The Bristol Ensemble will take centre stage at this year's Bristol Harbour Festival which will conclude with a 45-minute performance of Handel's Water Music in the Floating Harbour at 5.30pm on Sunday 23 July. The Bristol Ensemble will perform on a flotilla of boats, with flares marking the finale beside Brunel's SS Great Britain.
The dramatic performance will mark the 300th anniversary of the first legendary performance of the famous piece. In July 1717, the premiere was given in front of the King and his court aboard a flotilla of boats on the River Thames, so it is fitting that this recreation will take place on the water beside one of Bristol's most exciting historic landmarks: Brunel's SS Great Britain. Brunel was a great fan of Handel's music, and requested that 'See the Conqu'ring Hero Comes' from Judas Maccabaeus was performed at an underwater party held inside his new Thames Tunnel during its construction in the 1820s; Brunel later had the same piece performed at an event marking the completion of the Royal Albert Bridge, Plymouth.
Bristol's 300th anniversary performance of Handel's Water Music is possible thanks to public funding by the National Lottery through Arts Council England.
Earlier on Sunday 23 July, children from local primary schools involved with 'Preludes' music project will perform a new composition on the SS Great Britain and BBC Radio Bristol stage in Brunel Square. They will work with 'Preludes' teachers and musicians from the Bristol Ensemble, taking inspiration from Handel's Water Music before premiering their Bristol Harbour Festival performance.
Roger Huckle, Artistic Director for the Bristol Ensemble, will direct both performances. He said: "This will be a fantastic event, echoing the first performance of the Water Music which took place on the Thames. Our flotilla will set sail from the SS Great Britain, voyaging along the harbourside to the amphitheatre and Museum Square, entertaining the crowds with this wonderful, centuries-old music. It promises to be a wonderful highlight of Bristol Harbour Festival."
As an established partner of Bristol Harbour Festival, providing free family entertainment in Brunel Square over the last five years with BBC Radio Bristol, the SS Great Britain Trust sees this dramatic evening performance as a further opportunity to celebrate UK maritime cultural heritage.
Matthew Tanner, Chief Executive of the SS Great Britain Trust, commented: "The Trust is delighted to be joining with the Bristol Ensemble to put on an ambitious performance on the harbour and celebrate the 300th anniversary almost to the day of the first rendition of this famous piece. We are always keen to support Bristol Harbour Festival, so taking the grand finale to the water to be enjoyed by as many Bristol families as possible is guaranteed to be a memorable moment."
More information on the performance including details of the flotilla route and timings will be available at bristolharbourfestival.co.uk.
October 10, 2016
Click here for a PDF version of this announcement
Bristol Ensemble's board of trustees is seeking to appoint a new Chairperson in the first quarter of 2017 following the retirement of the current Chairman.
Bristol Ensemble, established in 1994 by violinist Roger Huckle, is the city's only professional orchestra, and is a registered charity and a company limited by guarantee. It gives around 50 concerts a year, ranging from a small chamber group to a large orchestra, with a repertoire stretching from the 17th century through to premieres of new commissions.
The orchestra's plans for the next five years are exciting and challenging, and it is well placed to continue to build on its position at the forefront of classical music in Bristol.
The essential requirements we are seeking in a new Chairman include:
Fully engaged and committed to the long term development of the organisation
Well connected and influential in Bristol. Needs to live in or near Bristol
Committed to putting in the time for board and other necessary internal & external
meetings (the board meets quarterly and there is a monthly Executive Committee
meeting)
A regular concert goer
Be an effective ambassador for the organisation and all aspects of its work
Inspire the board and all those associated with the organisation
A visionary and good completer/finisher
Have good leadership skills and able to delegate effectively.
If you are interested in finding out more about this voluntary role, please contact the Treasurer, Andrew Gustar, by email at info@bristolensemble.com.
We are seeking submissions of interest by the 1st December. Interested candidates should provide a letter outlining their suitability for the role and what particular skills and interest they could bring to the ensemble. Candidates will be invited to meet the Artistic Director and two members of the board at an agreed date where they will have the opportunity to discuss the role in more detail.
July 22, 2016
All 4 Music has changed its name to Be More Musical. It even has a fancy new logo!
Don't worry though, we will still be putting on exciting music workshops with our fantastic tutors. Billy Elliot, A Capella Jazz, the ever popular Scratch Orchestra, Fleetwood Mac and a new Recorder project are all ready to be explored, just follow this link to the Be More Musical website.
July 11, 2016
The Patsy Wood Trust has supported Bristol Ensemble's Preludes Project for the last 5 years having first invited us to apply after they heard about the Project's overarching vision: to transform the lives of children who live in disadvantaged communities, by putting classical music at the heart of their education.
This chimed with one of the trust's central objectives – to support training and education, music and the creative arts. The Patsy Wood Trust is a major supporter of the Preludes programme, and not only financially. Trustees are in close and regular contact, attend sessions in schools, concerts in the community and are on hand to offer advice and encouragement when needed.
We are therefore delighted to announce that the Trust has agreed to continue to sponsor the work of Preludes for a further 3 years with a grant totalling £60,000. Thank you Patsy Wood Trust for your interest and support. You have been a major contributor to the project's success!
July 8, 2016
Watch some of the Preludes children in action at St George's earlier in the week in this report from Made In Bristol TV. Skip to 4m 50s, after the robots!
https://www.madeinbristol.tv/player/?playercat=80307&vid=u86bhi6k
June 29, 2016
Bristol Ensemble's second collaboration with the Russian pianist produced a concert of stunning virtuosity.  Andrei Gavrilov and Roger Huckle encouraged an informal atmosphere, encouraging applause between movements, moving around the performance area and speaking about the works.  The audience responded enthusiastically with a standing ovation at the end.
Children from Bristol Ensemble's award-winning Preludes education project sat in on part of the rehearsal earlier in the day and were blown away by it. They were given the opportunity to perform themselves, entertaining audience members with a pre-concert event in the foyer performance space.
Photography by JonCraig.co.uk